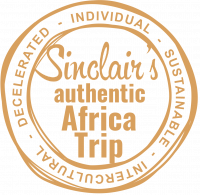 and thank you for booking your African journey with us.
What happens next:
We just initiated the booking of all services for you, you will shortly receive the invoice via email with insurance certificate and you safely pay the deposit (20%).
We set up your trip in our Africa Travel App and you receive your individual login details.
After the final payment (40 days before the trip) you will receive all travel documents, vouchers etc. in our App and by email.
If you wish, we can arrange a telephone call or Zoom meeting for your individual travel preparation approx. 1 month before the trip.
You will be greeted by us after landing at the airport and start your trip perfectly. And we are always available for you during the trip.